The Coastal Pines Technical College (CPTC) Foundation hosted a 10-year anniversary celebration on the college's Waycross campus on Wednesday, March 15, 2023. This celebration was to mark the 10th year of the Charles Eames Travel Fund Scholarship and the Charles Eames Scholarship. During the celebration, it was announced by President Lonnie Roberts that the library system at Coastal Pines was being named the "Charles B. Eames Library". A sign was unveiled above the entrance to the Waycross campus library to honor Mr. Eames. Plans to install signs at the Jesup, Golden Isles, and Camden campus libraries are underway. Spring 2023 recipients of the Charles Eames Travel Fund Scholarship attended the event and were presented their scholarship checks during the event.
In late 2013, Mr. Charles Eames established the first two Charles Eames Travel Funds, one with the James M. Dye Foundation at South Georgia State College (SGSC), and the other with the Okefenokee Technical College (OTC) Foundation. The purpose of the funds was the same as now, to assist students with the everyday cost of traveling to campus for classes and clinical rotations. Mr. Eames, former Director of the Okefenokee Regional Library System (ORLS), also established the Charles Eames Scholarship Fund which benefits CPTC students through needs-based scholarships and academic awards. Over the last 10 years and thanks to Mr. Eames' generous donations, the CPTC Foundation has awarded a travel scholarship to anywhere between 10 to 25 students per semester and has awarded the Charles Eames Scholarship to countless others.
"We appreciate the support Mr. Eames has provided the past decade. His contributions have had a lasting impact on the College, our communities, and most importantly, our students. He has helped make it possible for hundreds of our students to receive an education and change their lives for the better. Naming our library in his honor is an appropriate and lasting way to recognize his contributions and say thank you.", stated Lonnie Roberts, President of Coastal Pines Technical College.
Thank you to the Waycross community and Coastal Pines Technical College faculty, staff, and students for coming out to honor Mr. Eames. For more information on the CPTC Foundation or the Charles Eames Scholarships, visit www.coastalpines.edu/foundation. To learn more about services offered by the Charles B. Eames Library system, visit https://libguides.coastalpines.edu/libraryservices.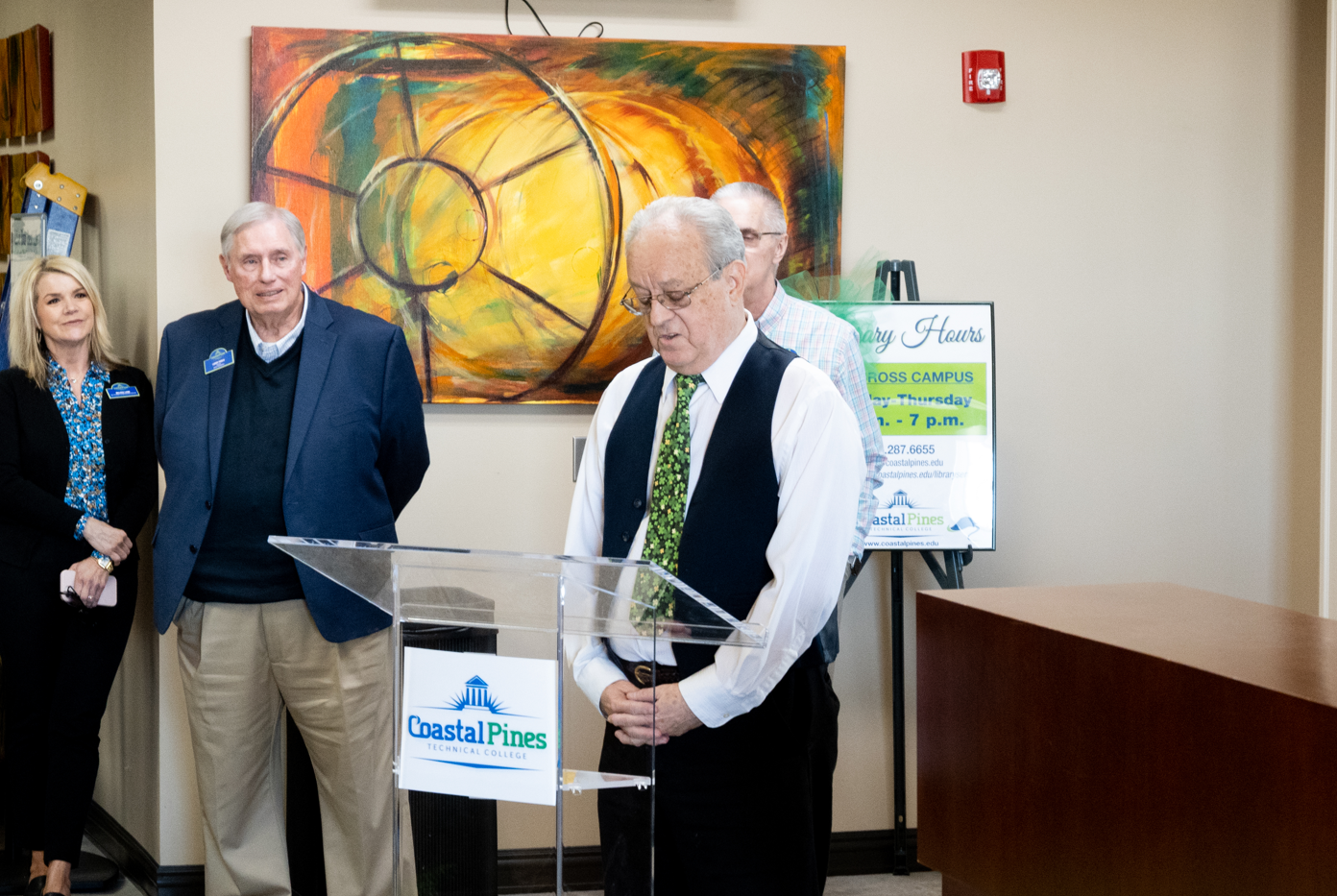 Mr. Charles Eames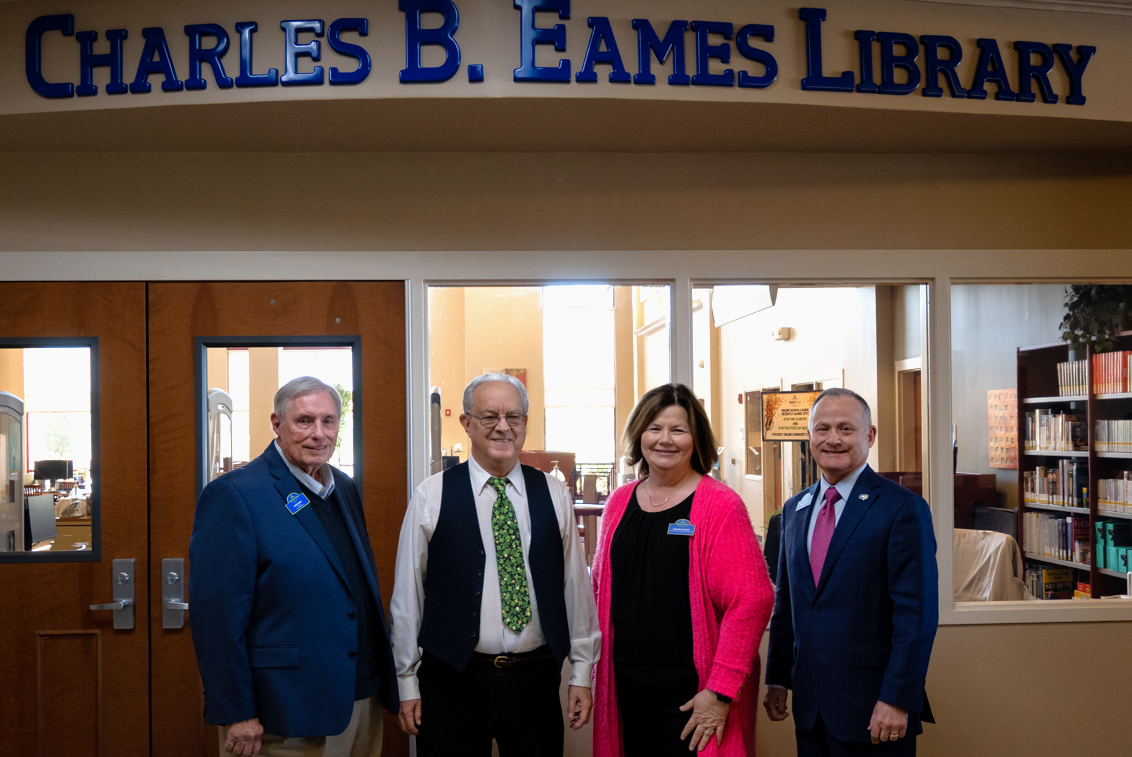 Larry Paulk, Chair of CPTC Foundation Trustee Board, Charles Eames, Stephanie Roberts, Executive Director of College Advancement, Lonnie Roberts, CPTC President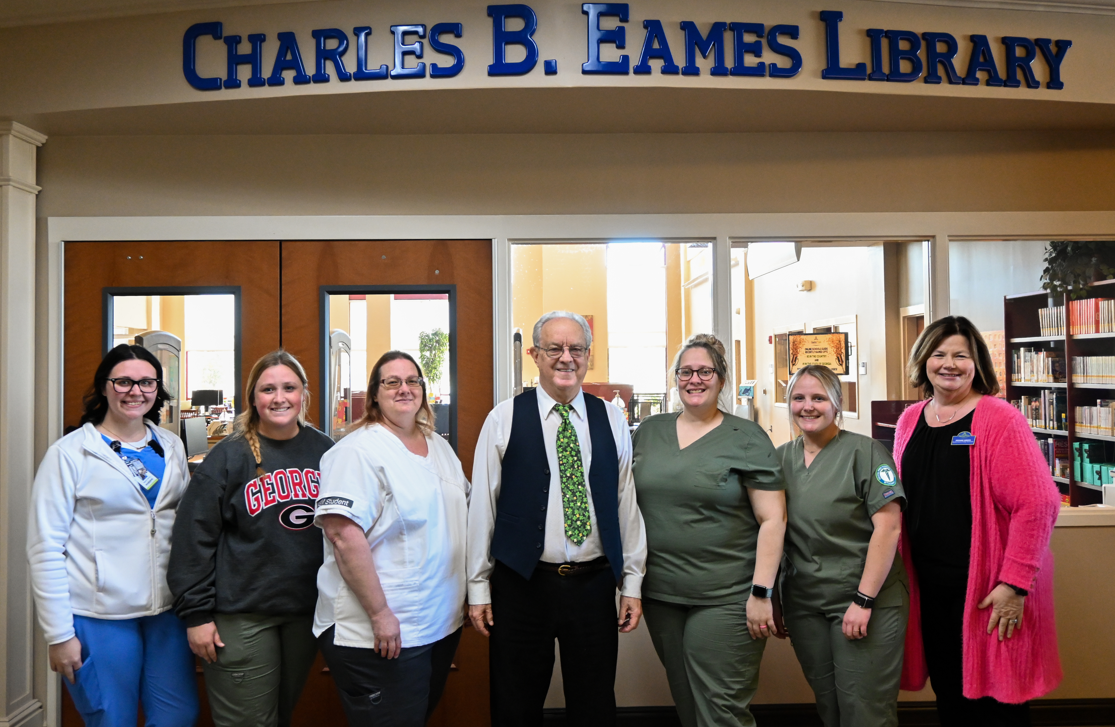 Travel Scholarship Recipients (Madison Harris, Jessica Fleming, Taylor Brannen, Lynle Latham, Grace Link), Charles Eames, Stephanie Roberts