Looking for the road to success?
Here's your on-ramp!
Your next step to getting ahead may be found in adult education classes at CPTC. You can start where you are and earn your High School Equivalency (GED & HiSET) by one of two options we offer at Coastal Pines Technical College. The Technical College System of Georgia (TCSG) now offers multiple options for achieving your high school equivalency. Two computer-based testing (CBT) pathways are available through our testing centers or proctored at home: the GED® test or the HiSET® exam.
Georgia now offers both the HiSET® exam and GED test to qualifying individuals. Both tests allow you to earn your high school equivalency credential. The HiSET® exam is one of three tests (GED, HiSET, and TASC) U.S. states and territories use to measure high school equivalency (HSE) skills. Educational Testing Services (ETS) works closely with states to ensure the HiSET® exam closely reflects the skills of a high school graduate and to provide a fair, rigorous exam.
We offer Career Services to our adult learners here at Coastal Pines. For interested students, you can contact Guynell Grant at ggrant@coastalpines.edu.
HOPE High School Equivalency (HSE) Examination Grant Program
Eligible Georgia residents can now apply for an award not to exceed $200 to cover the cost of the GED® examination. The HOPE HSE Grant is available once per subject area exam to those who qualify. To learn more, visit www.HSEtest4Free.com. For questions or assistance with the HOPE HSE Grant Application, applicants can email HSEGrant@tcsg.edu or call 404-679-1645.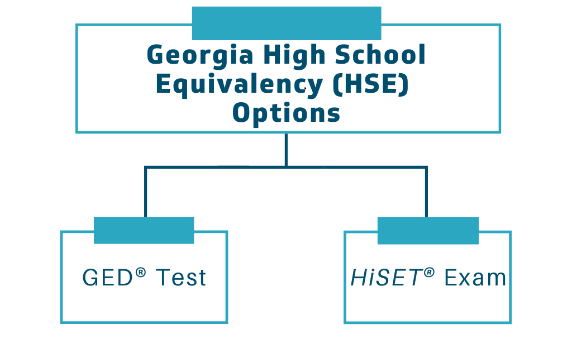 We offer classes that are designed to direct adult learners so that they can compete successfully in today's workplace. With locations in each of the 13 counties in our service area, the road to success begins close to home.
The HiSET® exam: Quick Facts
HiSET preparation classes are free.
Scholarships are available to assist with HiSET Testing fees.
View a list of currently open HiSET testing centers for computer-based testing in Georgia.
The HiSET@Home is available to take from home 15 hours a day, 7 days a week.
View all of the policies and requirements for taking the HiSET in Georgia on the ETS website.
The GED Test: Quick Facts
GED preparation classes are free.
Scholarships are available to assist with GED Testing fees.
Our Coastal Pines testing centers offer computer-based testing for the GED.
The Online GED Test is available to take from home 24 hours a day, 7 days a week. To view the differences between an Online Proctored Test vs. In-Person GED Test, click here.
Adult Education Emergency Notification System
Our Emergency Notification System is used by Coastal Pines Technical College for emergency communications and other important information via text message and email.
Our Emergency Notification System does not charge subscribers to send or receive SMS messages. Standard or other messaging charges apply depending upon your wireless carrier plan and subscription details.
To receive emergency and other important information, please fill out the form below.